We went off in two jeeps, doing the four wheel drive thing. First off was a stop in Shoshone to look at shit. Got some dates from the date farm to chew on and strolled over to the caves...holes in the clay based walls that people used to live in. Was much cooler in summer than living in a log cabin that's for sure.
Ken giving Margie the low-down on something or other.
Brian lookin like Lyle Lovett
Looking back over the Parhump Valley, Tecopa Hot Springs and behind the mountains, Las Vegas
This was a talc mine... they mined either talc, borox...or gold and silver...
Paper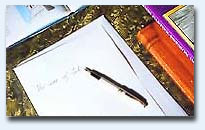 The paper industry is the largest consumer of Talc and generally uses 300 Mesh (53µ) with the range of brightness varying between 80% to 96%.
Talc is used in three stages of paper making :
As a filler to give smoothness, porosity and opacity to paper in addition to reducing the cost.
To control Pitch and Stikies... during the paper making process, oleo resinous droplets micro or colloidal in nature get added to the stream. These micro impurities can clog the paper machinery. Talc being hydrophobic absorbs these micro droplets or if the droplets are big then talc lamellae stick to their surface thus controlling their stickiness.
In coating formulations... because of its platy ness and high brightness, talc leads to reduction in usage of expensive whitening and helps in controlling gloss of the coat. Talc also provides smoothness to the surface and imparts opacity to the coat.
Additionally talc reduces the friction on paper manufacturing machinery thus reducing wear.

---
Plastics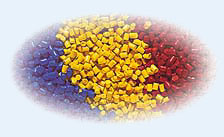 With the plastic industry on a fast growth-track, the usage of talc is growing fast in PP, HDPE, LDPE, PVC, ABS & Thermosetting Compounds.
Talc is having a huge demand as a filler due to its following properties:
Platy in nature

Excellent blending characteristics with oleoresinous materials.

Excellent thermal resistance

Superior electrical resistance

Chemically inert

Smooth greasy feel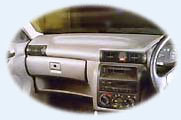 In Polypropylene, talc is used to improve mechanical strength and scratch resistance. The Automotive industry uses Talc for dashboards, interior trims, bumpers etc. Talc is also used in plastics for computer bodies and garden furniture where increased UV resistance is a highly desirable characteristic. It is also used as antiblocking agent in film-like bags used for fruits, vegetables etc. Many compounding factories are also using Talc.
Talc imparts the the following properties to plastic:
Improves Chemical & Heat Resistance.

Improves impact absorbing strength.

Gives dimensional stability.

Improves stiffness, hardness, tensile strength.

Gives electrical insulation property.
The Plastic Industry uses Talc of 20µ to 1µ particle size.
---
Pharmaceuticals



Although a small user, the pharmaceutical industry requires highly pure, specialized and bacteria free talc for Tablets, Ointments and Dusting. The thermal & chemical inertness of talc makes it an ideal filler.

The pharmaceutical talc is processed to remove impurities like iron oxide, dolomite, carbon, magnesium and carbonate minerals.


---
Ceramics
A major consumer of industrial minerals, the Ceramic Industry (especially Asia) uses Talc for "body" and glazing of:




Wall Tiles

Sanitaryware

Electrical Insulating (Steatite Talc)

Porcelain

Dinnerware

The Talc used is generally of 80-93% whiteness and 200-300 Mesh.
This is a caved in mine tunnel